Fly, Drive & Dine - Bellarine Peninsula - Luxury Winery Tour

Melbourne Seaplanes, in partnership with Great Private Tours is excited to be offering our new 'Fly, Drive and Dine' package of the Bellarine Peninsula.
So… if you are celebrating something special or just wanting an indulgent, exciting day out, then this promises to be a fabulous experience you won't forget.
For bookings or enquiries, please call us now... (03) 9397 5388
You will:
Fly in our Seaplane over Port Phillip Bay enjoying the spectacular scenery… taking in sights of Williamstown, Altona, Point Cook and then across to the seaside town of Portarlington where your expert guide will greet you on the beach.
Be chauffeured in a luxury Mercedes Benz van to several of the best wineries and distillery the Bellarine has to offer and taste some classic Chardonnay, Pinot, Sparkling and Gins that the makes this cool climate region a standout for quality wines and spirits. You will visit 2-3 quality vineyards and a Gin distillery.
Experience Fine Dining at Jack Rabbit overlooking one of the best views from a winery in Victoria as you indulge in a 3-course fine dining experience by executive chef, Dwayne Bourke.
Finally… return to Melbourne via either:
Our Seaplane to Williamstown (20 minutes) or…
Luxury Mercedes Benz van (1.5hr) or…
Port Phillip Ferry Services from Port Arlington to Docklands (1hr)
Itinerary
You day starts at 09:30am. You will depart Williamstown on our Cessna Seaplane and fly to Portarlington or the Mornington Peninsula.
You will experience the excitement of taking off from the water and landing at the beach, stepping off onto the sand and being met by your Great Private Tours guide.
Your seaplane flight offers two options…
Direct: Williamstown - Point Cook - Portarlington (25min)

Fly over Hobson Bay, Williamstown taking in the views of the Westgate bridge & with the City in the backdrop, then hug the coastline to Point cook then cross Corio Bay to Portarlington

Scenic Bayside Loop: Williamstown - City Loop – Brighton – Mornington – Sorrento – Queenscliff - Portarlington (60 min)

The spectacular Scenic Bay Loop flight takes you out and around Melbourne City and the MCG, then down to St. Kilda, we'll follow the bayside coastline to the Mornington Peninsula. You'll have a amazing bird's eye view of Arthurs Seat and Red Hill. We'll go all the way down the peninsula flying over the towns of Blairgowrie, Sorrento and Portsea, over the spectacular Point Nepean, then across Port Phillip Heads to Queenscliff, then finally over to Portarlingtonoikxc where your guide awaits you.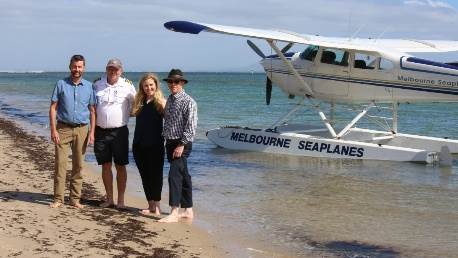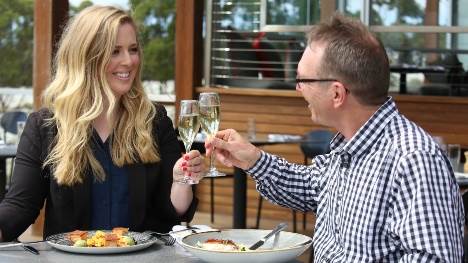 Luxury Mercedes Benz Wine and Dine Tour
1st stop
Oakdene Estate: Trend setter and boutique wine maker with unique artistic setting and a quirky cellar door.
2nd stop
Scotchmans Hill: Enjoy some back vintage wines from this exceptional bold and exciting winery that is a leading local winery in the Bellarine and a delectable cheese platter.
3rd stop
Jack Rabbit: Highly popular and scenically powerful venue, this quality restaurant is ideal to indulge in a 3 course fine dining experience overlooking the bay for that special occasion.
4th stop
The Whiskery: Small batched hand-crafted Gin distillery. You will be treated to a Gin tasting of 4 Gins with a variety of tonics to mix. Or if you prefer another winery then the cellar door of Lethbridge Estate is just for serious wine lovers. Enjoy a tasting of their unique range.
Return Journey Options
You can choose from one these options for your return journey:
Be chauffeured in our luxury Mercedes Benz van to your Hotel, residence* or Williamstown (approx. 1.5 hrs)

Return 6.30pm

By Port Phillip Ferry: Portarlington to Docklands CBD (approx. 1.0 hr)

Sat/Sun Depart 4.30 – Return 5.40

Wed/Thur/Fri Depart 3.45 – Return 4.55

By Seaplane to our Williamstown base (approx. 20 minutes)

Depart 4.30 – Return 5.00pm
* Inner Melbourne suburbs... other, please enquire
Pricing
Direct Williamstown – Portarlington (30 min)
Guests
Option A

Fly, Drive & Dine - drive return

Option B

Fly, Drive & Dine - ferry return

Option C

Fly, Drive & Dine - flight return

2
$ 2,190.00
$ 1,990.00
$ 2,750.00
3
$ 2,490.00
$ 2,250.00
$ 2,990.00
4
$ 2,790.00
$ 2,450.00
$ 3,290.00
price given is the total for the group
Scenic Bayside Loop Williamstown – Portarlington (60 min)
Guests
Option A

Fly, Drive & Dine - drive return

Option B

Fly, Drive & Dine - ferry return

Option C

Fly, Drive & Dine - flight return

2
$ 2,590.00
$ 2,390.00
$ 3,190.00
3
$ 2,790.00
$ 2,650.00
$ 3,390.00
4
$ 2,980.00
$ 2,890.00
$ 3,590.00
price given is the total for the group
Inclusions
Seaplane flight
Luxury Mercedes vehicle transport
Expert tour guide
All tasting fees
3 course fine dining at Jack Rabbit Restaurant
Return ticket/service
Transport - Mercedes Viano (7-seater)
You will travel in a luxury Mercedes Viano, with leather seating for up to 7 passengers. The vehicle is equipped with climate control, water and free Wi-Fi (provided throughout the tour when in range)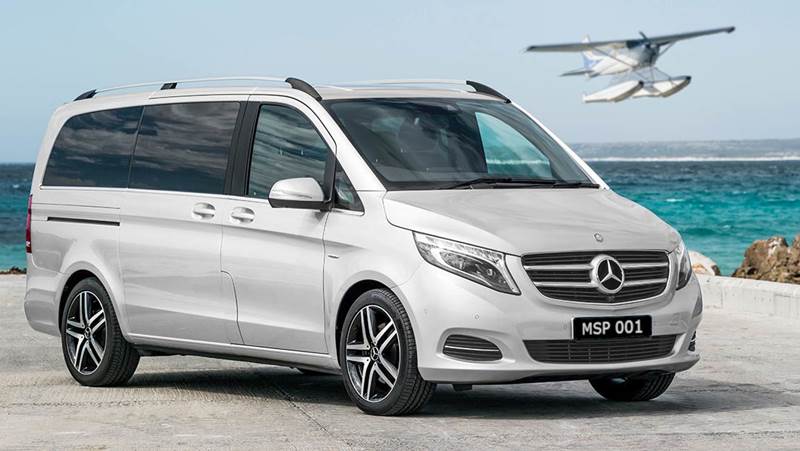 Tour Options
There is a variety of food providores and specialty beverage makers that are worth adding to your day in Bellarine. Please let us know if you are interested in any of the following so we can include them into your itinerary.
Other Wineries
We are not fixed on visiting these wineries. If you would like to visit some others that you know, or prefer, please let me know and we can include them.
Deposit
We will require a Deposit of $ 400.00 to book the tour, with the balanced to be paid 7 days before departure.
Booking
To make a booking, please contact us or call (03) 9397 5388.
Payment is required before tour departure. To view our cancellation policy please read our Terms & Conditions.
We look forward to providing you with a memorable day... and please let us know if would like further information or to enquire about any other of our seaplane flights.